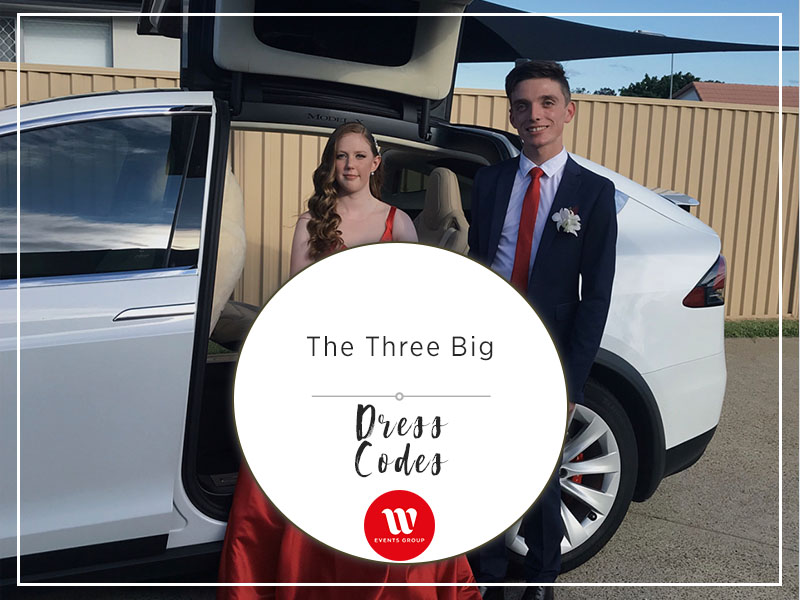 The Three Big Dress Codes
We have all been there, you're about a week out from a dress coded event and have no idea what to wear. With all these different dress codes popping up all the time, it is fair to be confused as to what attire goes with what dress code. But fear no more, the following blog should hopefully alleviate that worry. We are here to clarify the three most commonly known dress codes, Black Tie, Cocktail and Smart Casual.
Black Tie:
Black Tie is known as a semi-formal dress code that is popular among evening events. The dress code is commonly known for being rather classy. For men, it entails a suit and/or jacket with a tuxedo being very common as well. Fabrics such as velvet, satin and silk are commonly used for ties and pocket squares to give the outfit that extra bit of flare. Formal shoes are a must!
For women, an evening gown or other high end evening attire may be worn. Fine jewellery is often used to help accessorise as well as a clutch that often compliments the shoes. All in all, black tie will have you looking and feeling your most fancy no matter the occasion.
Cocktail:
Put into layman's terms, Cocktail attire is the happy medium between casual and black tie. It is a semi-formal look or outfit that will take you from day to night. For the guys, dress shoes, formal pants and a button up shirt will do. Blazers being optional. though highly regarded.
For the ladies, a nice dress or pants suit is always desirable. Accessorised with your favourite going out shoes and a clutch with earrings to match. Cocktail is the more popular dress code among events such as weddings, standing events and early evening events. Always remember, you'll have a good night if it involves a cocktail dress.
Smart Casual:
Smart casual is a basic style used day to day whether you're attending a dinner, going to work or just wanting to expand your everyday style. For both men and women, it is very much the same. A button up shirt with shorts for the boys.
For the girls, a simple pants suit, two-piece outfit or even pants and a button up shirt is all that it often entails. Essentially it slightly lifts a casual aesthetic to something that has slightly more elegance and effort to it.
At the end of the day, everyone has their own personal taste, style and aesthetic that can be expressed thoroughly using any dress code. What ever dress code you're wearing, wear it with confidence!
Be true to yourself and happy with how you look and the rest will fall into place. Always remember that confidence and a smile will forever be the greatest accessory to any outfit.