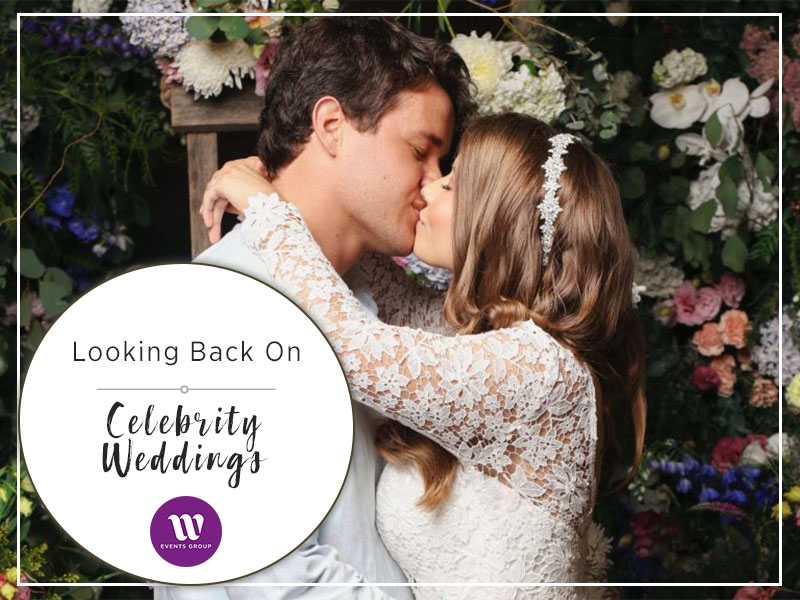 Looking Back On Celebrity Weddings
Everyone has a favourite celebrity,they could be your favourite due to their style, what they stand for or their talent and work. Celebrity weddings give us an insight into the couple themselves and often offer inspiration and ideas that you can adapt into your own event and celebration.From intimate and exclusive ceremonies to elaborate and grandiose events. Today we're traveling down memory lane, revisiting some of our favourite celebrity weddings. From the Kardashians to our very own Irwin family, every wedding tells its own story.
On May 24 2014, Kim Kardashian and Kanye West said 'I Do' in Florence, Italy. Andrea Bocelli performed as Mrs Kardashian-West walked down the aisle. White was the colour of choice for the couple as they incorporated white flooring,  white florals and  white gowns. Everything about this wedding was created with elegance, classical styling and sophistication (as well as millions of dollars). With this classical styling a more scaled down version could also be replicated for your wedding ceremony. The gorgeous flower wall framing Kim and Kanya as they said their vows is a popular choice for current brides and grooms to incorporate into their ceremonies today.
A little bit closer to home, our very own Bindi Irwin married her sweet heart ,Chandler Powell on March 25th, 2020! It was only fitting that the daughter of the late crocodile hunter married at her families home in Australia Zoo. With Australia Zoo as the background and a photographic tribute to her late father Steve Irwin beside the floral arbour, Bindi and Chandler took their vows. The couple shared their day with close knit family and surrounded themselves with nostalgia and passion for the animals and their Australia Zoo family.Their simple setting and gorgeous floral displays was the perfect setting to their story and  their wedding photographs with the animals captured their joyful union.
Last on the list is the Rock and his beautiful bride, Lauren Hashian. This newly wed couple celebrated their special day with a stunning beachside ceremony in Hawaii. The couple kept it casual and intimate. Along with the bridal party was a small guest list who enjoyed a low key and colourful reception. This wedding isn't what you would typically expect of your A-list celebrity wedding, it was a well kept secret. Their number one goal was privacy and they succeeded! No event stylists, wedding planners or outside resources were used for the happy couple. The menu was kept clean, natural and healthy with guests seated outside for a lovely ceremony followed by a casual Hawaiian wedding breakfast.
Each celebrity is different, along with all of us. No matter who you are or what you would like for your celebration, your wedding day is as individual and unique as you. This is the day for you and your partner to celebrate love and commit to each other. Crafting your ceremony and reception into the memorable and most r0mantic wedding day of your dreams.