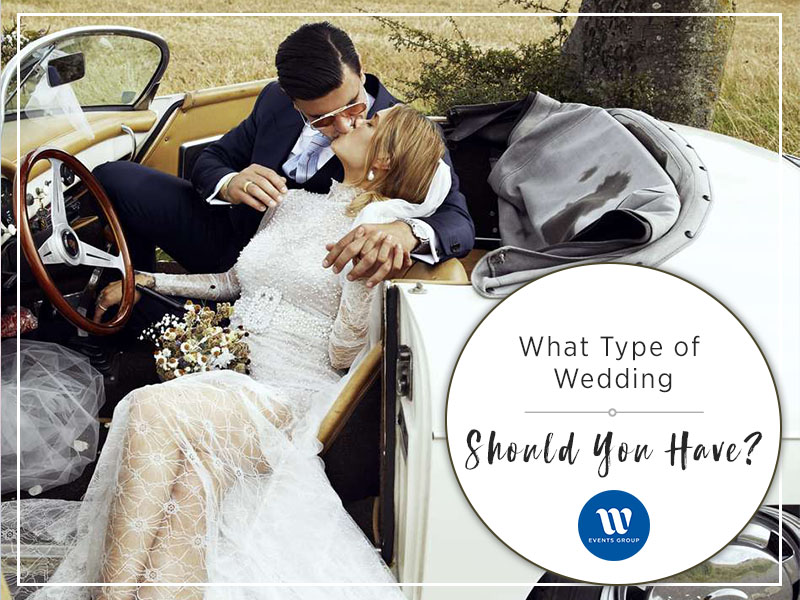 What Type of Wedding Should You Have?
The year 2020 has brought with it more changes than we can list with regards to weddings. With numbers being limited and weddings being postponed, we are here to show you the endless possibilities for when we finally reach the end of these strange times. Here at W Events Group we are catering for all types of events that fit COVID Safe plans and also for all those big special days that have been postponed to a later date. Join us in reading along on some of the hottest weddings we can help you create.
Standup Cocktail Wedding 
A stand up cocktail wedding can be an absolutely fabulous way to enjoy your reception. Not only does it open you up to an entirely new set of design ideas, it allows guests the chance to properly socialise without the restriction of having a designated seat and table. Cocktail weddings can include the usual sit down ceremony that is seen universally although the flare added to the reception is second to none. A large nicely decorated open space, your favourite people, a dance floor with food and drinks. Now that sounds like a wedding to remember. 
After Dark Wedding 
Typically, wedding ceremonies are held in the daylight, followed by a cocktail hour and reception flowing on into the evening. But what people tend not to think about is the potential of having an after dark wedding ceremony. From the moment guests take their seats at the ceremony it is literally lights, camera, action. The potential and possibilities there are with lighting, ambience and comfort are endless. From a brightly coloured neon sign at the end of the aisle to warm soft lighting hidden throughout to even fireworks and sparklers. Give yourself and your guests something different to remember with an after dark wedding. 
Boat Wedding 
We have all heard of weddings by the water, whether it's the beach or a lake, the possibilities are enormous. But what about having the wedding on the water itself? Depending on the type of boat you desire, the size of your guest list can quite easily remain the same as what a dry wedding would. Imagine having your ceremony on a warm calm summers night, Edison bulbs lighting up the area with the glistening city scape reflecting off the calm waters as the perfect natural backdrop. 
As you can see, the options are totally endless  when it comes to how you can design your big day. Never forget what the true meaning behind the day is and always make it as fun and comfortable for you and your partner as possible. We hope that these three different ideas helped you on your journey to choosing what to do for your big day. 
Feel free to reach out to the team at W Events Group if you'd like more ideas and inspiration or to be guided on what can be achieved to bring your dream to life.