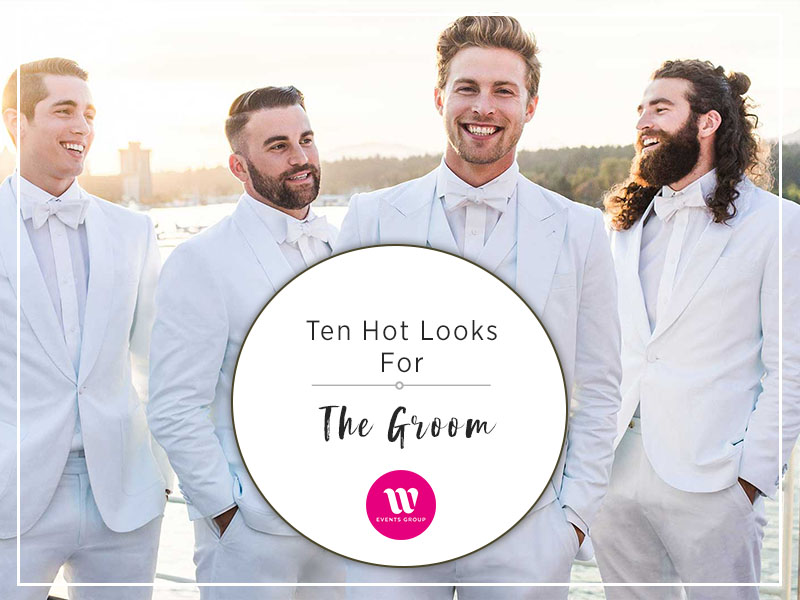 Ten Hot Looks For The Groom
When it comes to a wedding fashion, most people's first thought is the wedding dress!. Will she wear vintage, designer, floral, silk, the list goes on. Everyone typically imagines the man to be wearing something to suit the bride's dress. Yes, this is wonderful. But what many people don't realise is that the groom can get just as creative with his suit as the bride does with her dress, all while still complimenting one another. So if you're lost for ideas on how to style the groom, here are ten hot ones. 
Classic Black Tuxedo
A classic black tux is timeless and elegant. With hundreds of designers to choose from, it is becoming easier to personalise your classic tux beyond just some simple alterations. Add on a coloured bow tie, pocket square or even a groovy pair of socks and you'll be sure to make a timeless piece of attire unique to you. 
Formal Pants with Formal Shirt 
The white formal shirt with the top button undone, tucked into formal pants with a belt to match the shoes is an absolutely fabulous look for the groom.  Perfect for warm climate weddings but also easy to add a great jacket too as well. This is clearly a much more laid back way to dress than a tuxedo, but it is an outfit that will fit in perfectly within a variety of settings and styles. It's also easy to personalise with options of patterned shirts, coloured shoes and belts and even patterned pants. Whatever your taste may be, it'll be sure to fit in well with this attire. 
Coloured Suit
Coloured suits are more popular than you would think! With roughly ten million colours scientifically proven to exist, everyone is sure to find the one that best resonates with them. From blues to purples to greens, people choose coloured suits for many reasons. To match the decor of the event, to match the colour of the brides dress and even just because they really enjoy the colour. Never be afraid to rock a suit of your favourite colour as it will be special and individual to you. 
Patterned Suit
Patterned suits are nothing short of spectacular. From a simple patterned pant and blazer to a fully custom multi colour fit, you'll never find yourself short on patterns to choose from. The popularity of patterned clothing has been on the rise this past decade, particularly when it comes to blazers and pants. Some patterns may scream something eccentric while others subtly show sophistication and elegance. Whatever the vibe is that you're going for, you'll be sure to find a pattern to match. 
Designer Suit
The year is 2020 and let's be real, designer is an extremely sought after and looked upon thing now days. With high end brands from Gucci, Vera Wang, Chanel and even Hermes, people are always on the look out for the next high fashion trend. By all means, if you've got the funds to do so, a designer suit is an absolutely fantastic way to add a flare of elegance and sophistication to your big day. 
Laidback Outfit to Suit the Location
Another way to dress for your wedding is to dress for the location. No matter what, you're going to want to be comfortable. If it's 5 degrees out, don't be afraid to layer up. If you're getting married in the tropics, there is absolutely nothing wrong with dressing it down and looking the part in something smart casual. I mean, if The Rock can wear a Hawaiian shirt to his own wedding, you are certainly allowed to wear something comfy for yourself.
Floral to Match the Brides Floral 
Now this is a good one. Whether you're wearing something simple, something artistic or even something high end. It is always a good idea to compliment your attire with a floral boutonnière that will match the brides wedding bouquet.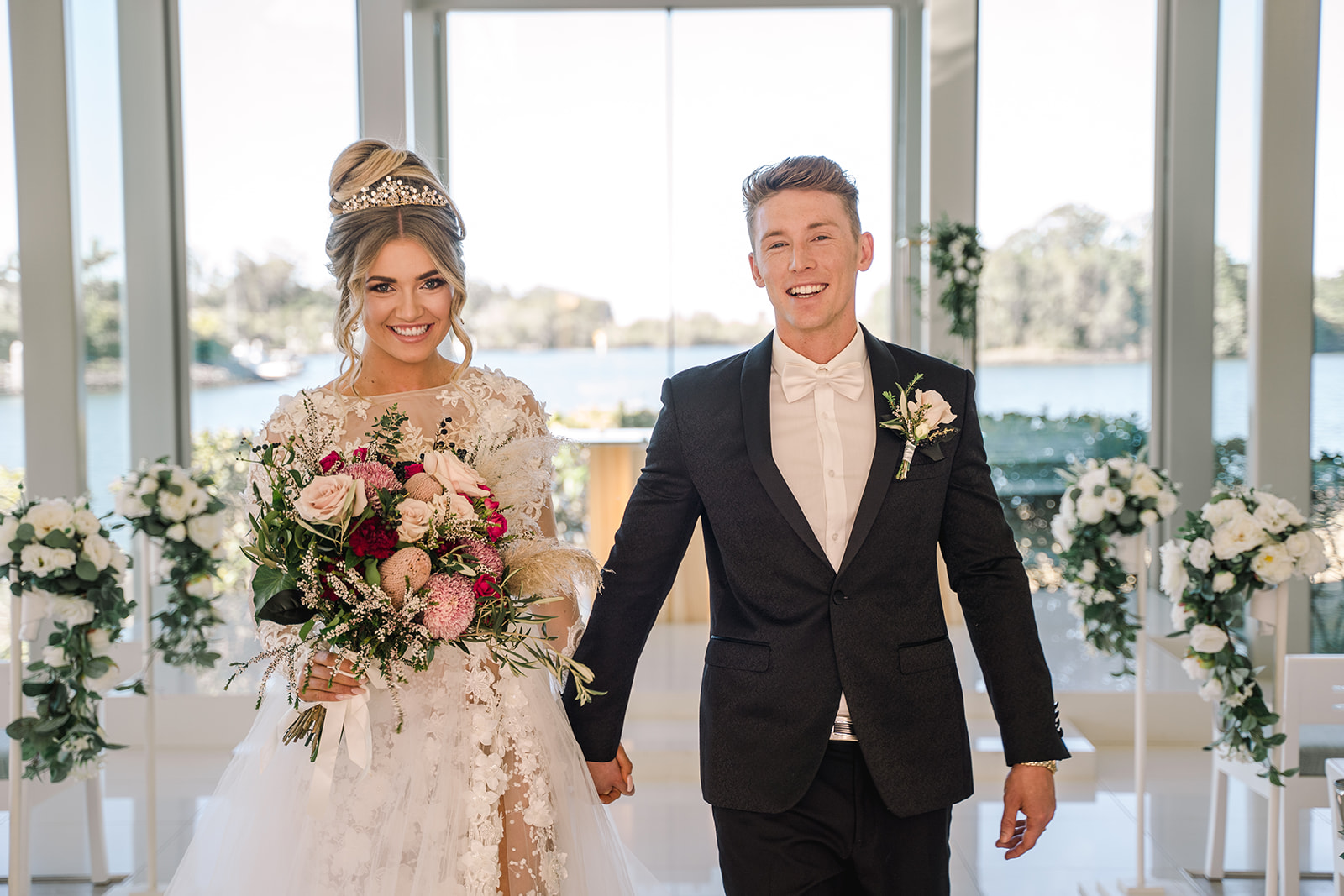 Beach Attire
When you get married by the sea , it is always advisable to ensure not only the bride and groom dress comfortable for the part, but also the guests. Beach weddings grow in popularity year in year out. Many grooms wear a simple pair of shorts, white button up shirt and not even any shoes to a wedding in the sand. After all, is there any other way to possibly look more the part at a beach wedding?
All White
Now all white suits may be a danger to stains from quite literally anything, but that doesn't stop them from having the potential to look stylish and stunning. White is a colour that represents purity and what better place to wear the most purest of colours other than to a wedding. An all white look will leave you feeling soft, fresh and comfortable all at once.
Whatever you Want 
Now you've finally made it to the end of the blog! That means, its time for our last piece of advice. Its your day, its your commitment and its your choice. So why not just wear absolutely whatever it is that you want to? Break gender norms, break tradition and don't be afraid to create an outfit that represents you entirely and you alone. Never be afraid to step out of your comfort zone and into something that makes you feel fierce. After all, the day is yours.