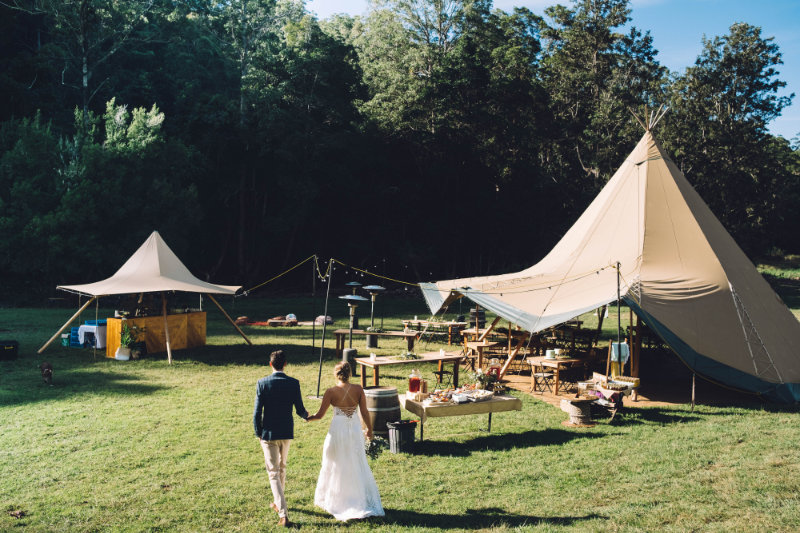 5 Reasons to Hire a Tipi for your Outdoor Wedding Reception
So many of us love the idea of having an outdoor wedding, but most are scared away by the potential problems that come along with it. The logistics of hosting your dream outdoor ceremony or reception can be a challenge, but choosing to hire a tipi can mitigate these challenges in a stunning way, giving your wedding a true WOW factor.
So here are 5 reasons why you should choose a tipi for your wedding reception:
1. Your tipi will go anywhere you can dream of (with a flat surface, of course!)
The beauty of hosting your wedding reception inside a tipi is that you can choose from so many beautiful and unique locations – all you need is an open space with easy access for your guests. That means you CAN actually have your reception in that outdoor spot you've always had your eye on. Host at a vineyard, open field with a gorgeous view, private property…the options are endless. Otherwise, there are many different hotel venues that have spaces perfect for a tipi, and they usually have other services included such as catering and beverages, making it a lot easier to plan your day. Check out all our beautiful venues on our website.
2. There will be plenty of room for activities
It's surprising how much you can fit into a tipi. A single tipi can host up to 80 guests, while a double tipi can host 120 guests, and you will still have room for a dance floor and small bar inside. A tipi is also great at bringing the outdoors into your reception, so utilise the open space around the tipi for things like lawn games, an alfresco bar, and picnic settings. Having different areas will get your guests up out of their seats and exploring what's going on around them.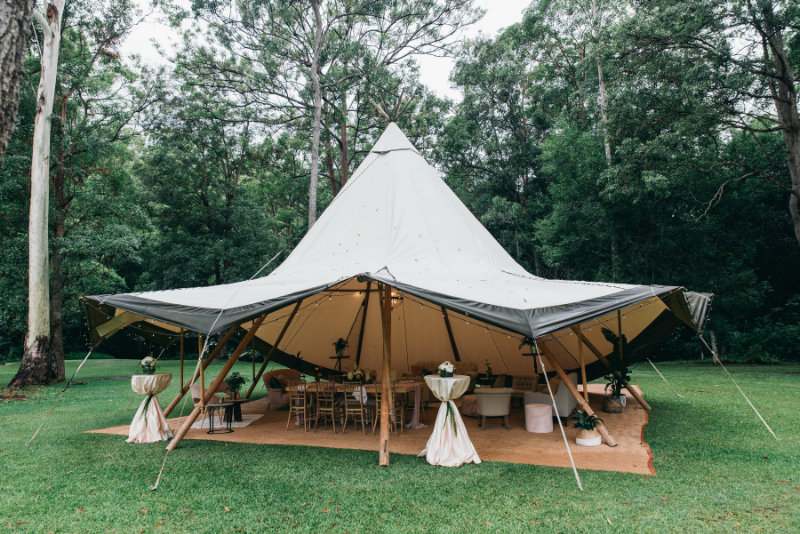 3. Tipis are great in any kind of weather
If you want to have an outdoor wedding reception, but are nervous about wet weather, then a tipi is the way to go. Once up, tipis are strong and durable, so will withstand winds and rain. Plus, they have sidewalls that can come down to create shelter. It's your outdoor reception and wet weather option all in one! They are also airy in summer and warm in winter, meaning they work in any season. Just make sure you take flooding into accountability when choosing a location.
4. You can have a fire pit inside your tipi
That's right, you can add a gorgeous fire pit to your tipi wedding, and it's more affordable than you think. Adding a fire pit is perfect for winter, and you can drop the walls of your tipi down and create a cosy, warm atmosphere. Add some marshmallows and other goodies for your guests to toast on the fire, and you have created a perfect activity to get people up and mingling around the fire pit.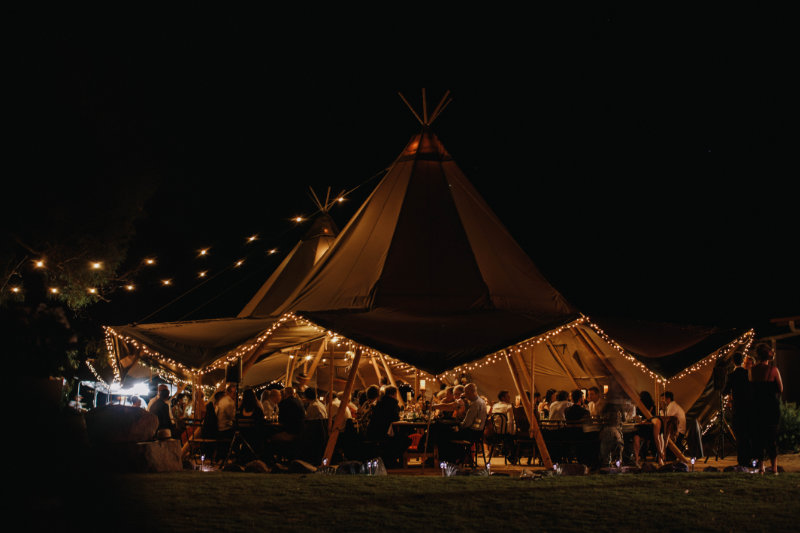 5. The styling options are endless
Your tipi is a blank canvas, so its time to let your imagination run wild. The colouring of the tipi walls lends themselves to a wide range of colour palettes for your décor, and while a boho style is most popular, you'll find you can make mostly anything work. Have some fun with lighting up trees, adding garden lighting or lanterns along pathways, and stringing festoon lighting above your guests' heads to create a real wow effect.
Our team at W Events Group have designed a Tipi Wedding Package that takes all the stress out of your gorgeous outdoor wedding reception, and our reputation in Event Styling will ensure your dream day looks exactly as you had imagined.