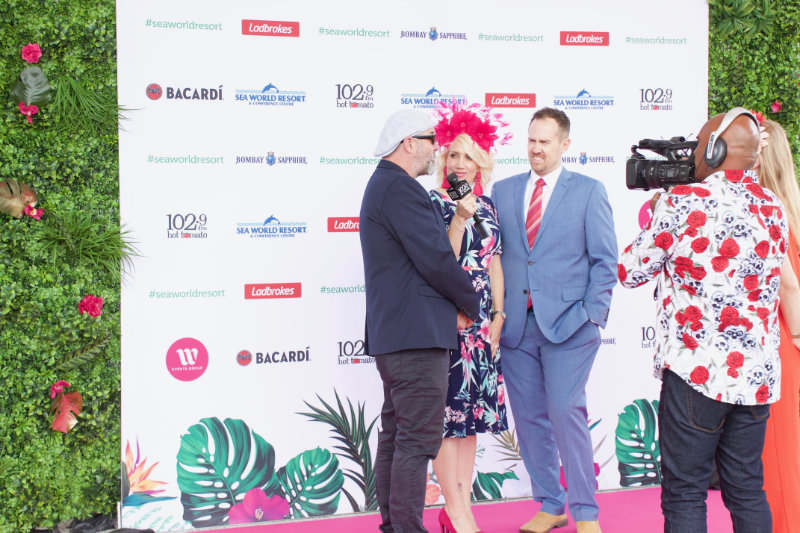 Melbourne Cup Florals
Melbourne Cup. The race that stops the nation. Melbourne Cup florals. The style that creates buzz on the Gold Coast. The Gold Coast might be a long way from Melbourne, but that doesn't mean that we can't party in style as if we were right amongst the action. Countless events are held all around the Gold Coast on Melbourne Cup Day, from the sandy beaches, to the hinterland and many locals get frocked up to enjoy a day full of fun, food and drinks.
The event has always had a focus on Fashions on the Field and this year was no different. The styling and florals at Melbourne Cup events featured an array of colour palettes to match the Gold Coast venues and their individuality.
Our team had the opportunity to style three events – Skypoint Observation Deck at Q1 in Surfers Paradise, Sharks Event Centre in Southport as well as Sea World's Convention Centre in Main Beach.
SkyPoint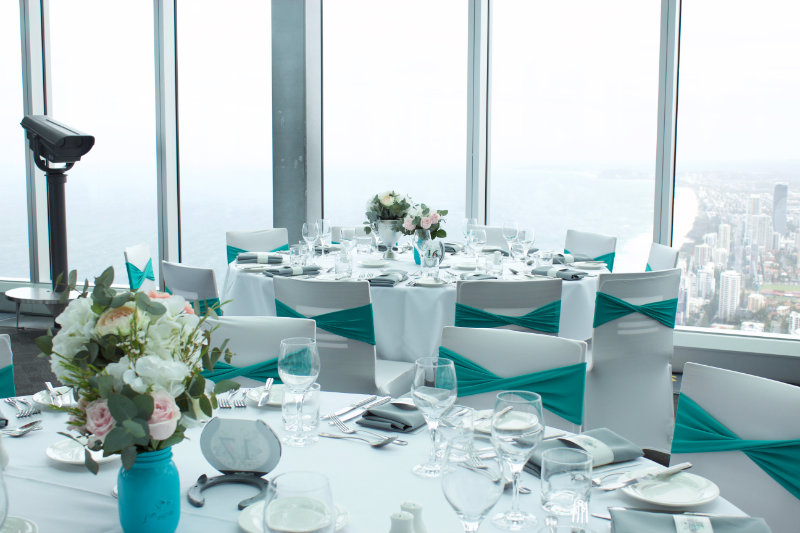 Being 77 stories high is one way to enjoy Melbourne Cup on the Gold Coast. With SkyPoint having 360-degree views and the ocean as the main outlook for this fantastic location, teal was used to tie in the elements.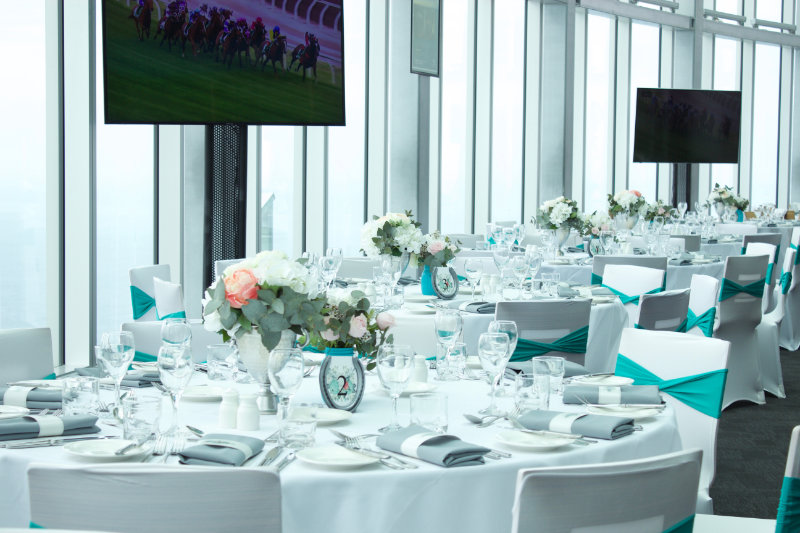 This bright colour was used in the mason jar vases and on bands for the chairs. Complementing this were grey napkins, light grey menus and dusty pink pastel flowers.  These combined to create the wow factor for guests as soon as they stepped out of the lift and onto the white carpet.
Sharks Event Centre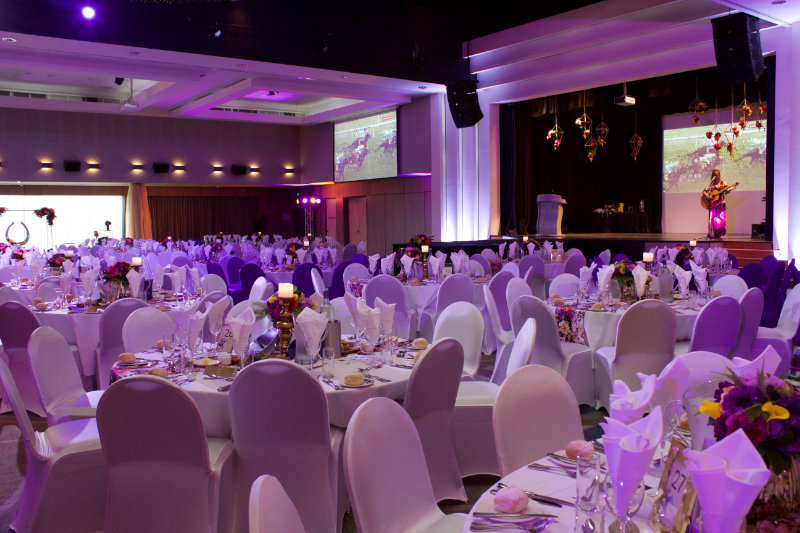 Southport Sharks held their Melbourne Cup event in the Sharks Event Centre, hosted by Bridget Daley from 92.5 Gold FM. Purple was their feature colour. It was used as highlights on chair covers, in floral arrangements both inside the venue and at the entry. A purple carpet led guests through gold doors and into the elegantly styled room.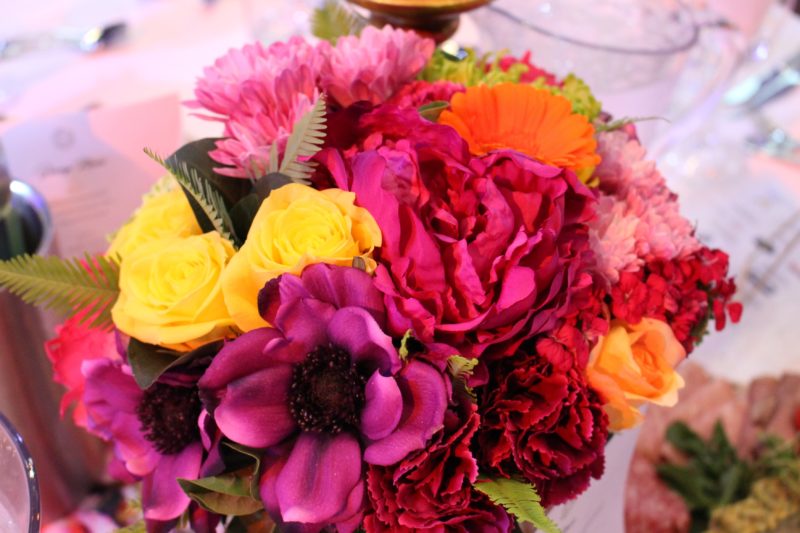 Having small bouquets of fresh and colourful flowers on the tables, and placed around the stage through the use of contemporary geometric shapes and designs helped to bring modern style to this event.
Sea World Convention Centre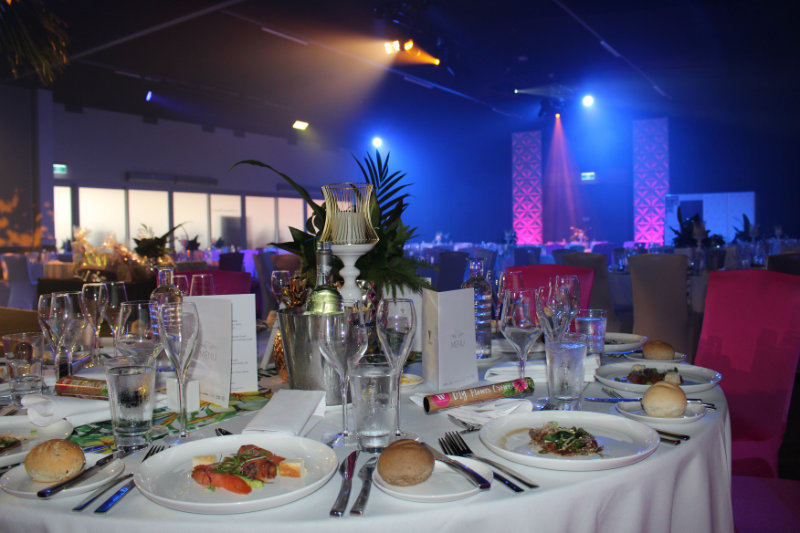 Sea World, at Main Beach put on a lavish event in their Convention Centre. This event was hosted by the stars from the Hot Tomato breakfast show Flan, Emily Jade and Christo.
The colour in focus for this venue was hot pink with touches of green. A lush hanging greenery feature hung opulently from the centre of the room. White chair covers were interspersed with hot pink, bringing colour and vibrancy to the excited guests, ready to watch all the action from Melbourne on the big screens.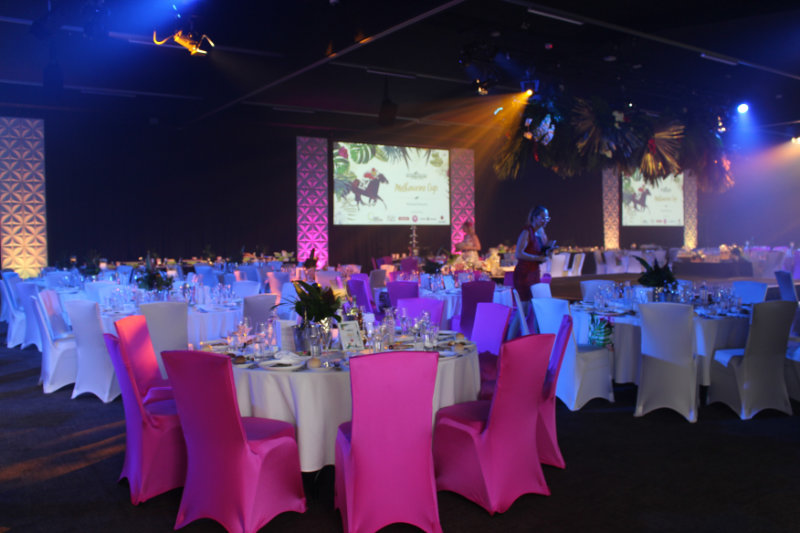 Melbourne Cup florals were this year's big thing. With floral fascinators, floral arrangements throughout the venues and floral buttonholes for men, there was no escaping them. And if you'd like to know how to keep on trend by making your own flower crown, we have all the details here and on our YouTube channel.